An Alternative to CLEP* and DSST exams
Our sister site,
InstantCert Credit (https://www.instantcertcredit.com)
now offers online courses that can be used to earn college credit. These courses have been reviewed by ACE (the American Council on Education) and can be transferred to over 2,000 colleges in the United States.
Why use InstantCert Credit courses instead of CLEP* or DSST?
1) Earn Credit without Leaving your Home
Our ACE-reviewed courses can be completed from start to finish online, without going to a testing center. The final exams use online proctoring through PSI's RPNow proctoring service. All you need is a computer with a webcam and a quiet place to take the exam.
2) Save Money with our Courses
Depending on how many exams you were planning on taking, you can save anywhere from 50 - 75% by taking our ACE-reviewed courses. A CLEP exam currently costs $87 and most testing centers charge at least $20 per exam as an administration fee. With InstantCert Credit, you pay a flat monthly subscription fee plus a $15 per exam proctoring fee.
3) Maximize your Chances of Earning Credit
In the unlikely event that you fail your CLEP or DSST exam (highly unlikely if you are using InstantCert to prepare!), you will be out your investment with nothing to show for it. With InstantCert Credit's self-paced courses, you can retake each of your exams, and your grade is spread out over multiple exams, so it does not all come down to one high-stakes test.
4) Increase the Quality of Your Education
Although InstantCert's flashcards strive to teach you the fundamentals of each college subject, there is only so much information we can cram into a few hundred flashcards. With our ACE-reviewed courses, you are learning just as much as you would in a traditional college course. If you want to thoroughly learn about a subject in a way that will benefit you for the rest of your life, give InstantCert Credit a try!
InstantCert Credit Courses have been reviewed by ACE
Who is ACE?
ACE is the American Council on Education. Founded in 1918, they are the same people that periodically review the CLEP and DSST exams to make sure they line up with higher education standards of content and rigor. ACE coordinates among American institutions of higher education and represents over 1,600 college and university presidents. When ACE reviews a course and makes a credit recommendation, that recommendation is considered by over 2,000 colleges in the United States when determining transfer eligibility.
How do you Transfer InstantCert Credit Courses to Your School?
If you are working on your degree through one of the "Big Three" (Thomas Edison State University, Charter Oak State College, Excelsior College), then they will generally award credit for any course that is on an ACE transcript.
If you are not enrolled in one of the Big Three but your school accepts CLEP or DSST exams, there's a good chance they will accept other ACE-reviewed sources of credit. Check with your school's registrar to ask them to evaluate InstantCert Credit's courses for transfer credit.
How do you get an ACE transcript?
Create an account with
ACE Credit
. Once you have created an account, you will then be able to add any ACE-reviewed courses you complete to your ACE account. You can also request a transcript to send to your school in order to receive credit for your ACE-reviewed courses.
Below is an example of an ACE transcript that would be sent to your school: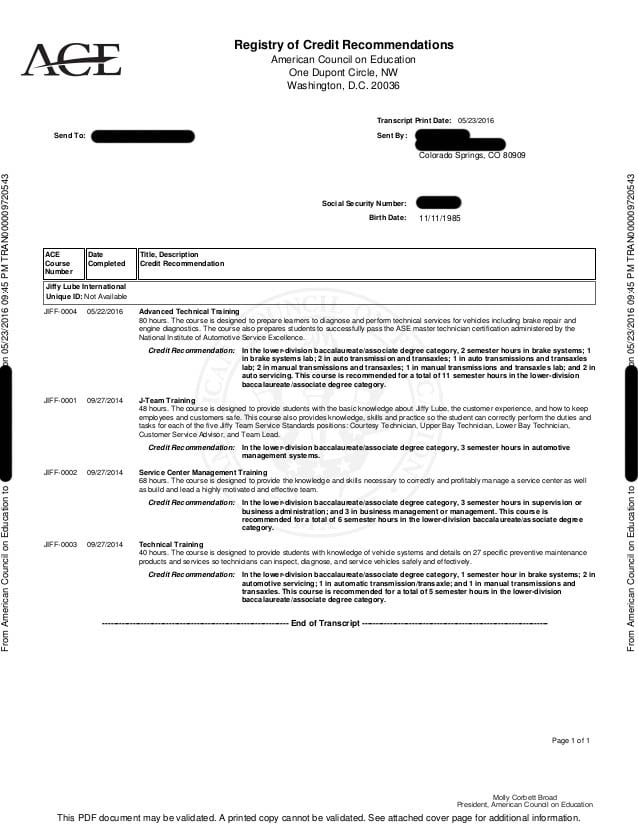 Check out InstantCert Credit's Courses Today!
Head over to
https://www.instantcertcredit.com
to try out one of our courses and see how easy it is to earn college credit from anywhere you have Internet access!